We survived again.
The assignment this time was:
Theme: ESP
Prop: A doll
Action – Shaking Hands.
A quartet of regulars: Neil Bennett, Eric Myles, Rob Paul and Patrick Williamson.  A fifth player, musician Chris Pauley worked offsite composing pieces based on the script and then tailored to the rough and final cut of the film.
Eric and Rob wrote the script, something a little off the beaten path for the regular "comedies" 416film makes. Pat and Neil filled out the two acting roles while Rob and Eric worked behind the scenes.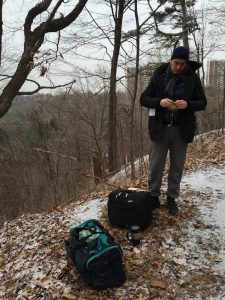 The weather, although bleak and mildly snowy actually provided a great somber look to the film.
A little less hectic and rushed than some of our previous films we still were tweaking up towards the midnight deadline and uploaded in the last hour of the contest.
Wish us luck!
Tweet This Post